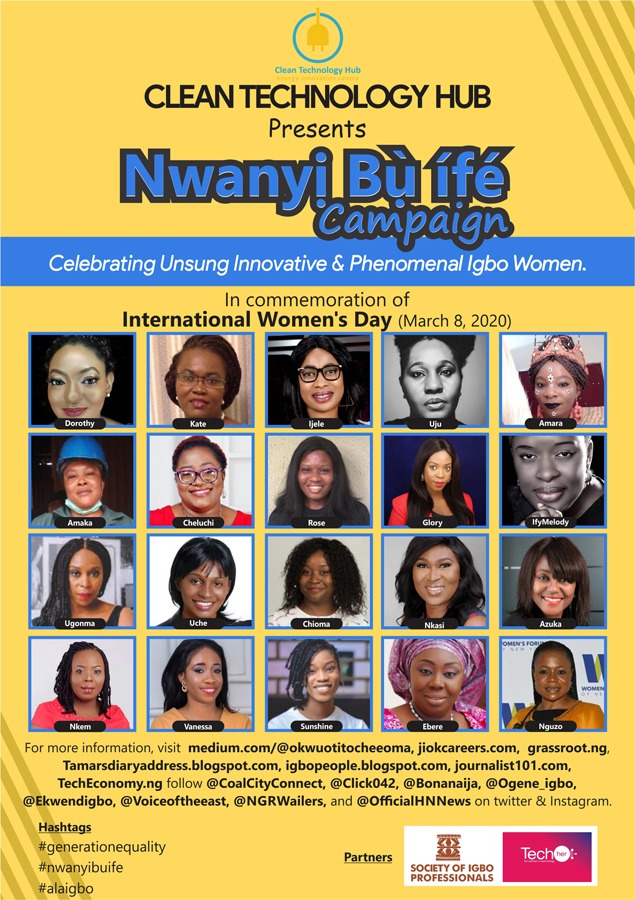 8th is globally known as the International Women's Day (IWD); a day designated to celebrate the economic, political and social achievements of women – past and present. It is a focal point in the movement for women's rights.
well as a day for a global call to action demanding gender parity in the role of women in the society. In commemoration of this year's
#InternationalWomensDay
celebration, a coalition of partner organizations (Clean Technology Hub, in partnership with TechHer and Society of Igbo Professionals) is running a digital campaign with the theme: "NWANYỊ BÙ ÍFÉ." 
Nwanyị bù ífé is an Igbo phrase that translates to: "A Woman Is Valuable." The focus of the campaign is to identify, celebrate and amplify the visibility of Igbo Women who are innovative, phenomenal & are selflessly enhancing the well-being of people in their community and beyond.
Igbo women are universally acknowledged for their display of exceptional bravery, unity and excellence in all spheres of lives: academia, business and commerce, public service, religion, STEM, creative and literary arts etc.
#InternationalWomensDay
Based on historical precedence – from Aba women's riot, Flora Nwapa's advocacy for children, widows & survivors of the Biafran war, and to the present day, contemporary Igbo women have continued to break boundaries & chart new courses, even in the face of daunting challenges.
Join us today, to celebrate these 20 illustrious Igbo women who are the true definition of "Nwanyị bù ífé."
#InternationalWomensDay